Why Organic Shampoo is the Best for You
However, we sometimes just tend to forget to check the ingredients on some products that we use very often. In this case, we will be talking about shampoos.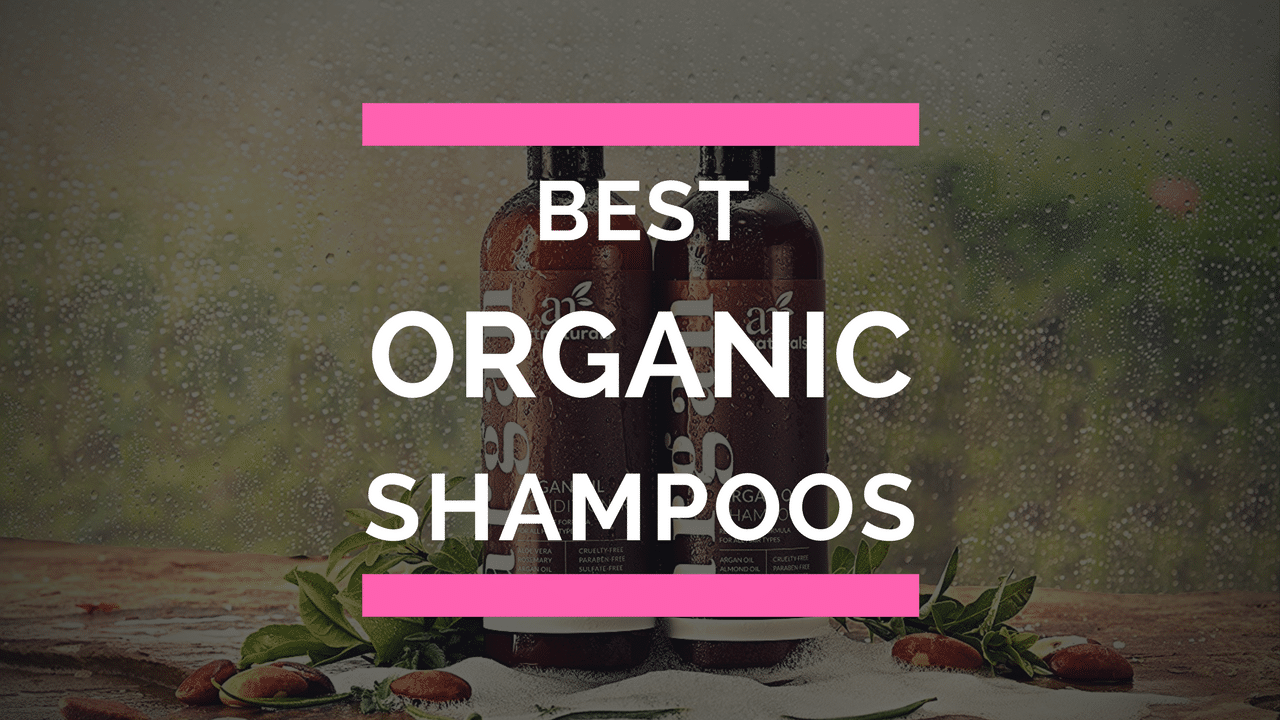 Most of the shampoos that we use are not biodegradable. That is very surprising! We would think that something you put on yourself would be healthy, and something that goes in down your drain would degrade right away and not poison everything on its way.
Anyhow, one standard bottle of normal shampoo contains silicone, sulfates, parabens, and phthalates in itself. These ingredients can mess up not only your hair, but your overall health as well. For example, parabens, or one kind of synthetic preservatives and phthalates, or artificial fragrances are thought to be disruptors of hormones. It cannot be good now, can it?
Why are these chemicals used in beauty products, you might ask yourself. First of all, sodium lauryl sulfate is a chemical that can foam really well when you mix it with a little bit of salt. It does clean the grease which just might be the reason why it is used in cleaning products for your kitchen and garage.
Now, there is no question to the popularity of organic products at all. However, you might find yourself wondering how organic shampoos are effective. Well, for one, organic shampoos get their power from ingredients that are all natural. But you would want your shampoo to smell good as well. These organic shampoos smell fantastically, and they smell of essential oil, and we all know how calm and suiting these can be.
At first try, these organic shampoos can be a little bit unusual to you because they do not foam as much. That is perfectly understandable since organic shampoos do not contain foaming agents that are so popular in commercial shampoos, or sodium lauryl sulfate.
If we have your attention and your interest turned to organic shampoos, give a look at these 10 best organic shampoos that we have chosen for you. We promise that you will like at least one of them, and be sure that they will leave your hair smooth, shiny, silky, and smelling fantastic.
Best Organic Shampoos  for Most Hair Types for Both Men and Women
Organic Everyday Shampoo by Nurture My Body – 100% Organic
Nurture My Body All-Natural Everyday Shampoo, Fragrance Free, 8 fl oz. - Certified Organic Ingredients
100% CERTIFIED ORGANIC AND FRAGRANCE-FREE SHAMPOO - Use this 100% certified organic and fragrance-free shampoo safely every day
FROM MAKER OF NATURAL HAIR PRODUCTS - Nurture My Body makes all-natural shampoos and conditioners like this shampoo formulated with 13 organic ingredients to gently cleanse and strengthen hair
HAIR CARE FREE OF SODIUM LAURYL SULFATES - This popular shampoo lathers luxuriously without the use of sodium lauryl sulfates, which means you get clean hair and a healthy body
GENTLE ENOUGH FOR EVERYDAY USE - Everyday Shampoo works without stripping the hair's natural oils, so you can use it every day instead of resorting to dry shampoo to freshen
SAFE FOR COLOR-TREATED HAIR - Nurture My Body shampoo and conditioner is ideal for color-treated hair because it simply washes, without stripping
Now, for first, this is the best organic shampoo for all hair types. No matter your hair type, dry, oily, normal, curly, wavy, straight, this shampoo will nourish them all!
As we mentioned previously, sodium lauryl sulfate can be very dangerous. Well, no worries, because this natural shampoo does not contain it. It does not contain parabens, heavy detergents, or petrochemicals either, so your hair and overall health will be safe with it.
Are you worried for your dyed hair? Well, no need for that. This shampoo is very gentle, and it has a nice soft scent that you will enjoy.
Being all natural, this organic shampoo cleans your hair and eliminates toxins without washing off natural oils from your hair.
Not only that this shampoo is organic, but the bottle is made of BPA-free plastic, and it is biodegradable, so you can be eco-friendly all the way!
It is very gentle, so you can use it every day if your hair asks for it. And it will, trust us. This shampoo is all your hair has been waiting for. So why wait, treat yourself with this best organic shampoo for your unique hair type!
Shampoos for dry, damaged, and color-treated hair
Moroccan Oil Shampoo- Best Natural Shampoo – Organic Shampoo
Moroccan Oil Shampoo- Silk Repair Shampoo- Best Natural Shampoo - Sulfate Free- Treatment For Frizzy, Dry & Damaged Hair - Safe for Color Treated Hair- Gives Hair Silky, Shiny, Volume- 8 oz
100% MONEY BACK GUARANTEE! VOTED #1 BEST Moroccan Oil Shampoo. A Gentle, Sulfate Free Shampoo that is great for all hair types, including color treated hair and hair that has been weakened, damaged by color, chemical processing or heat styling.
Our Moroccan Oil Shampoo provides shine and softness to hair. Perfect For Dry, Damaged, Frizzy, Color treated Hair.
Organic Shampoo with natural Ingredients, Contains No Parabens, Pabas Or Harmful Sulfates. Contains natural oils and herbs to pamper your hair while cleansing. Cleans, conditions, and then rinses clean.
Contains 100% Pure, Organic Argan Oil with Highest Quality and Purity.
Moroccan Oil Shampoo With A Fresh Citrus fragrance, no artificial color, no artificial additives, or impurities. Not tested on animals (Cruelty Free). No ingredients derived from animals. Made In The USA In Our Advanced FDA Certified Facility.
Is your hair getting weak from all the treatments it has gone through? Is it tired and lifeless? Have you tried everything to help it get better, but we no help? We just might have a solution for you!
This organic shampoo is the number one Moroccan oil shampoo! It is very gentle, contains no sulfates, and it is amazing for all types of hair, especially those damaged ones that we know some of you have. It will help all weakened and damaged hairs by chemicals from colors and dyes or heat styling. So if you like to try out different hairstyles, or try out different colors, this is just the thing for you!
This best organic Moroccan oil shampoo with organic argan oil of the highest quality will pamper everyone's hair and protect it and treat it well.
It is just perfect for color treated dry, frizzy, or damaged hair. This organic shampoo with pure Moroccan oil will provide softness and shine to your beloved hair. Containing no harmful substances like sulfates, or parabens, it will repair it and protect it from further damage. All these natural herbs and oils are here to love your hair and pamper it to its finest.
If you like that exotic scents, you will like this shampoo even more! It smells of fresh citrus with a dash of sweet oils.
This shampoo is not tested on animals, and it is completely cruelty-free, so if you are a vegan or a vegetarian, or if you are against testing products on animals, you can sleep soundly. It is made in the United States of America in a certified FDA facility.
DermOrganic Daily Conditioning Shampoo with Argan Oil
DermOrganic Daily Conditioning Shampoo with Argan Oil - Sulfate-Free & Color-Safe, 33.8 fl.oz.
STRONGER HEALTHIER HAIR: Organic Moroccan Argan Oil ,rice keratin protein and antioxidant seed extracts rebuild and protect damaged hair cuticles to restore strong, vibrant, supple hair texture. Stronger, healthier hair now!
INNOVATIVE FORMULATION: DermOrganic Daily Conditioning Shampoo is made with facial cleansers derived from lipids and amino acids that moisturize and strengthen salon-treated hair. 100% pure Moroccan Argan oil is added to keep strands soft, supple, smooth, and show-stopping shiny.
SUPERIOR QUALITIES: Sulfate-free and color-safe, the formula is an enviable one with luxurious protein-packed keratin that strengthens and supports strands from the outside-in, while fatty acid-enriched Omega 6's and panthenol repair, restore, and rejuvenate damaged, distressed hair. An array of botanical-rich antioxidants protect and preserve hair from everyday environmental assaults. Natural lipids help repair unsightly split ends and prevent breakage.
SAFE, NATURAL AND KIND: Gluten-free, Paraben-free, Phthalate-free, Sulfate-free, PPG/PEG-free, MEA/DEA-free - No artificial preservatives; no artificial dyes or colors. Cruelty free and Vegan and made with an outstanding 70% certified organic ingredients.
SUITABLE FOR ALL HAIR TYPES: Safe and recommended for all hair types, especially damaged, dry, and chemically-treated. Our sulfate free formula is gentle on curly and color treated hair.
We all want our hair to be shiny, silky, and beautiful, don't we? And we have all heard of magic powers of Argan oil. Well, if you have tried it, you must know how much good it does to your hair, and you want to keep using it. Now, if you could only combine it with all natural organic shampoo that would be just amazing. We have good news for you! This shampoo with the most innovative formula lately has it all!
Your hair will get healthier and stronger in no time with the new formula in this organic shampoo. It contains Argain oil, antioxidants, keratin, and seed extracts that combine their powers to repair and protect your hair from further damage in no time! Facial cleansers from amino acids and lipids will moisturize your beautiful hair and Argan oil will keep your ends smooth, soft, and shiny.
This organic shampoo is color safe, so you do not need to worry if you like using hair dye. Keratin in this shampoo that is full of proteins will strengthen your hair and nourish it from outside-in, and panthenol and Omega 6 fatty acids will repair and rejuvenate your hair. It will be protected from everyday attacks from the environment, and natural lipids will help in preventing split ends.
This shampoo contains no artificial colors and dyes, or preservatives what so ever, and it is 100% vegan!
Although this shampoo is suitable for all hair types, we recommend it for damaged and dyed hair in the first place.
Sweet Spot Naturals Sulfate-Free Hair Color Rescue Manuka Honey Shampoo
-$45.00 OFF
Hair Color Rescue Shampoo and Conditioner - by Sweet Spot Naturals made with Manuka Honey and Aloe Vera (8 oz)
FINALLY! Our Shampoo and Conditioner are specially formulated to be color safe. Your new hair color won't wash out. Maintaining that luxurious, healthy look can be challenging using harsh coloring chemicals, but it's not impossible. So don't compromise, continue coloring and let Sweet Spot Naturals do the rest.
NATURE'S GIFTS: Our Shampoo and Conditioner are loaded with Natural Ingredients: Organic Aloe Vera, the famous Manuka Healing Honey, Coconut Oil Extract and Australian Cehami, known for its medicinal properties.
NO HARSH CHEMICALS: Showering puts your body in a uniquely vulnerable position. Hot water opens the pores of your skin and like a sponge your skin absorbs what you put on it. Our Shampoo and Conditioner contain no sulfates, parabens, dyes, fragrance or alcohol.
ALL THE BLATHER ABOUT LATHER: The advertising industry has convinced us that we cannot get clean without large amounts of soapy suds. THIS IS FALSE! Lather is produced by sulfates. They are easily absorbed and worsen skin conditions. WE DON'T USE SULFATES. Your hair, scalp and skin can be safely cleaned without suds.
HAIR RESCUE: You will notice an improvement in your hair and scalp from the first time you use our Shampoo and Conditioner. But the real results come over time. Your hair will become softer and silkier than it has been in years. If you don't love our Shampoo and Conditioner please return for a full refund.
Finally, there is a shampoo with a special formula for your dyed hair! You didn't even know that this was something your colored hair has been waiting for. But now we have a formula that is color safe, so you are in good hands.
We all know how tiring it can be when our new shiny color just starts washing off after the first wash, and no one has ever been happy about it. Now we have a solution, not only for repairing your hair, but for slowing down washing out of hair color. It will help you keep the healthy and luxurious look that sometimes can be a bit hard with all the chemicals that we put on our hairs. No compromises needed here! You can continue coloring your hair safely now, and Sweet Spot will do the rest.
This best color saver is exploding with natural ingredients. Some of them are all natural Aloe Vera, manuka honey, famous for its healing powers, extract of coconut oil and medicinally famous Australian Cehami.
This sweet organic shampoo contains no dyes, artificial fragrances, sulfates, alcohols, or parabens, so your health and your hair are safe and sound.
We are just sure that you will see improvement after only first try. Your hair and your scalp will be as good as new. However, you have to be persistent to see the best results.
Shampoos to treat and eliminate dandruff
Maple Holistics Sage Shampoo for Anti Dandruff
-$14.05 OFF
Vitamin Shampoo for Dandruff + Hair Loss - Anti Dandruff Sulfate Free Treatment for Healthy Scalp + Hair Growth - Anti-Aging Damage Repair with Sage - Relieve Itching Flaking Dry Skin + Thinning Hair
Therapeutic Dandruff Solution: Pure anti dandruff shampoo balances flaky scalp by gently cleansing to remove follicle clogging dirt, oil, and dry skin for healthy hair growth and itchy scalp relief.
Revive Dull Dry Hair: Intensify shine and luster with Moroccan Argan Oil Jojoba and Peach Kernel to replenish moisture and restore vibrancy as keratin strengthens brittle hair for better elasticity.
Improve Hair Texture: Our extra strength anti itch dry scalp treatment nourishes to reduce frizz and static in curly hair for softer, smoother hair as it boosts roots for more volume body and bounce.
All Natural Ingredients: Our clarifying shampoo is sulfate free paraben free cruelty free and preservative free. Sage Rosemary and Tea Tree essential oils make our natural shampoo potent and powerful.
All Hair Types: Enhance normal oily dry or color treated hair that's thin or thick with our vitamin scalp treatment which may help prevent breakage split ends and hair loss and won't irritate skin.
Have you ever had a dandruff problem? Weather moderate or a heavy one, we have a suggestion. This Maple Sage shampoo with jojoba oil, argan oil, and organic tea tree oil will help you solve your dandruff problem. No more need to get ashamed or embarrassed by "snow" on your shoulders, no need to worry about the color of your blouse, this shampoo will solve it all.
This Dandruff Be Gone shampoo contains no ingredients that are harsh and harmful, and it will treat your hair and your skin with respect and tenderness.
Ingredients in this shampoo are carefully thought out. Sage is normally used in dermatology to fight dermatitis, and its conditions and causes. They are very mild and purely organic, and it hides a formula that is amazing for all types of hair, but especially those that are sensitive to sodium lauryl sulfate and other chemicals of that kind.
Benefits of the formula in this shampoo are as follows:
Sage: the one that has antiseptic and anti-inflammatory features to fight dermatitis. If you are perhaps experiencing some kind of hair loss as well, sage will help with that too. This producer does not like cheap alternatives, so you can trust them that all ingredients are of prime quality.
Spikenard: It fights to prevent dermatitis and it does wonders when it comes to restoring your natural pigmentation. Combined with sage, it does wonders for  hair growth.
Rosemary: Together with spikenard, and tea tree oil that clears dead cell from your scalp, rosemary improves circulation and promotes the growth of new hair as well and stimulates the renewal of hair follicles.
Jojoba and Argan oils: You will not need a conditioner with this shampoo, since it has a lot of natural oils that give it this 2 in 1 feature. Oils will give your hair smoothness, shine, and moisture.
Botanical Keratin: When your hair lacks keratin it can get dry and frizzy, so it will restore the health to your hair.
 Scalp18 Therapeutic Treatment Helps Anti-Itchy Scalp
ArtNaturals Dandruff Shampoo, Coal Tar with Argan Oil, Scalp18 Therapeutic Treatment Helps Anti-Itchy Scalp, Clear Symptoms of Psoriasis, Eczema, Natural and Organic, Sulfate Free, 16 oz.
Art naturals' scalp 18 therapeutic anti-dandruff shampoo rushes relief from dry scalp and and seborrheic dermatitis
Key ingredients tar and coal have been used for generations to treat a host of skin and scalp conditions
Scalp 18 is also infused with deeply hydrating all-natural oils, including jojo-ba and argan
Itching and flaking are stopped, while healthy, shiny hair returns
Cruelty-free product
This Ebony Wardrobe Master will help you bring those elegant black colors back to your wardrobe and forget about previous problems that you had with your powdery shoulders.
Its combination of tar coal with plants and herbal oils will treat and condition your hair and your scalp and it will definitely stop itching and making dandruff flakes in no time. You will forget what itching and scratching that are commonly associated with dandruff and dry scalp are with this smooth and gentle formula. It has the long-lasting effect and you will never need another shampoo again.
Oils from this shampoo will return your hair to its previous young shine and repair dry and split ends.
How this all will happen, you wonder. Well, all these ingredients combined will make your skin shed those dead cells from the top layer of your skin and they will slow down new growth of excess skin, which will all decrease dryness.
It also has very moisturizing and hydrating effect that comes from pure natural oils, like argan and jojoba. Jojoba will clean your skin of bacteria and unclog your pores and moisturize the skin and hair. Argan oil will soothe the skin and make your hair grow faster.
All combined in this amazing organic shampoo, they will restore your hairs previous healthy, natural, and dandruff free state.
Pure Tea Tree Oil Shampoo
-$14.55 OFF
Pure Tea Tree Oil Shampoo - Natural Essential Oil Anti-Dandruff Shampoo For Dry Itchy & Flaky Scalp - Anti-fungal & Anti-Bacterial - Sulfate Free Hydrating Cleanser - Prevent Head Lice & Thinning Hair
Pure Tea Tree Oil Shampoo - Natural Essential Oil Anti-Dandruff Shampoo For Dry Itchy & Flaky Scalp - Anti-fungal & Anti-Bacterial - Sulfate Free Hydrating Cleanser - Prevent Head Lice & Thinning Hair
HAIR GROWTH THERAPY SHAMPOO for women, men and children. Promotes fast hair growth and regrowth for strengthened, luscious locks. The best formula to eliminate hair loss, shedding and thinning hair.
TEA TREE MOISTURIZING SHAMPOO FOR DANDRUFF hydrates the scalp, locks in moisture & cleans the hair follicles to encourage healthy hair & skin. It soothes irritated itchy scalp & eliminating flakes.
OUR HEAD LICE TREATMENT SHAMPOO naturally eradicates lice. Our alternative chemical free, botanical lice prevention with lavender and rosemary, gets rid of lice in colored, processed and natural hair.
SAFE AND EFFECTIVE HYPOALLERGENIC SULFATE FREE tea tree shampoo for sensitive skin nourishes the scalp as it prevents flakes and lice. Our formula will leave your hair feeling rejuvenated and fresh.
This Freshest Dandruff Warrior will help you solve all the problems that you ever had with dry hair or scalp, itching, and unwanted flakes.  Teat Tree oil will absorb oil from your hair and calm your irritated scalp. Your scalp and hair with it will be completely refreshed. You will fill your head breathing again! It will be so thankful that it will treat you back with new hair.
Combination of oils will leave you with cooling sense and it will be magical. You will feel how lavender oil, argan oil, jojoba oil, rosemary oil, aloe leaves, pomegranates, hibiscus, shea butter, botanical keratin,  and sea buckthorn are cleaning your every pore.
It is paraben free and sulfate free and it is great for women, men and kids of all hair types.
Shampoos to control oiliness
Degrease Oily Hair Shampoo
-$7.05 OFF
Shampoo for Oily Hair & Oily Scalp - Natural Dandruff Treatment for Women & Men - Hair Loss Products - Hair Strengthener - Itchy Scalp Treatment - Beautiful Hair Care - Clarifying Shampoo Sulfate Free
BEST DEGREASING SHAMPOO FOR OILY HAIR removes oil & grease build up on your scalp. Our natural clarifying treatment with lemon essential oil restores a healthy sebum & pH balance in your skin & hair.
PURE MOISTURIZING DANDRUFF TREATMENT alleviates itch caused by germs on your scalp. Our jojoba, rosemary formula hydrates hair follicles from the inside while protecting from environmental pollutants.
HAIR STRENGTHENING SHAMPOO FOR OILY SCALP AND DANDRUFF cleans & minimize pores while improving circulation in the scalp. This alternative hair loss solution uses basil & cypress for healthy hair care.
KERATIN THERAPY HAIR AND SCALP TREATMENT is extremely gentle & effective. Natural hair loss shampoo is safe, paraben free & sulfate free. This dandruff shampoo is for men & women with sensitive skin.
MONEY BACK GUARANTEE - CLARIFYING SHAMPOO will remove excess oil from your hair leaving you with luscious locks that are voluminous & frizz free. It will leave your scalp itch free & highly nourished.
All of us want nice and shiny hear. But sometimes the gloss that we get is not the shine that we need, and it can turn from one to another in a bat of a lash. So what can we do to stop it?
This problem is something that can hit anyone, young or old, and with any hair type. So there is a perfect shampoo for it. This Master of Right Shine will use its fresh formula to absorb excess grease, and put the right shine in your hair.
These plants will help purify the scalp and hair, and they will remove all impurities that clog your hair's follicles that usually cause itching and can lead to other problems, like dandruff, and much more. This formula will wash off dead skin, oil, and dirt and leave a clean and healthy skin,that can give you nothing less but beautiful hair.
Shampoos for fine or thinning hair to stimulate new hair growth
PURA D'OR Original Gold Label Shampoo
-$12.00 OFF
PURA D'OR Original Gold Label Anti-Thinning Shampoo Clinically Tested, Infused with Argan Oil, Biotin & Natural Ingredients, Sulfate Free, All Hair Types, Men and Women, 16 Fl Oz (Packaging may vary)
GET TO THE ROOT OF THE PROBLEM. It all starts with a healthy scalp. This invigorating blend of natural extracts and essential nutrients fortifies and invigorates hair, reducing the appearance of hair thinning due to breakage
FIGHT HAIR THINNING, NATURALLY. Powerful blend of Biotin, Pumpkin Seed, Black Cumin Seed Oil, Nettle, and other plant-based ingredients to help increase volume and thicken hair
GENTLE, YET EFFECTIVE. Ultra-nourishing blend of premium oils and Plant-Based ingredients specially formulated to effectively treat damaged, and/or color-treated hair. Gentle enough for daily use
SCIENCE + NATURE. All PURA D'OR formulas combine science and nature to deliver transformative hair therapy. Select Natural Ingredients. No SLS (Sulfates). No Parabens. No Harmful Chemicals. Gluten Free. Hypo-Allergenic. Cruelty Free. Manufactured in the USA. Color Safe. Vegan
100% 365 DAY MONEY BACK GUARANTEE. We Aim To Offer The Highest Quality On The Market. We guarantee your satisfaction. If you are not satisfied with your purchase, please return it for a FULL REFUND within 365 days
For all those of you that are afraid of hair loss, we have a perfect product.
Pura D'Or has a new formula that will help you grow new and healthy hair in practically no time.
This shampoo gets its power from organic and all-natural bioactive ingredients, which include aloe vera and Korean seaweed that will provide protection from further hair loss.
Try what nature has to offer, and prevent your hair from thinning all natural way. This Golden Liquid will detoxify your scalp and stimulate the growth of new, strong, and healthy hair. This formula will start working from roots to the tops and reduce further thinning of your hair.
It is gentle enough to be used daily, which is recommended, and you will be able to see the effects in only three months of regular usage.
Organic Shampoo Bars
J.R. Liggett's Old Fashioned Shampoo Bar 3.5 Ounces (Variety 3 Pack)
J.R. Liggett's Old Fashioned Shampoo Bar 3.5 Ounces (Variety 3 Pack)
3-BAR VARIETY PACK OF J.R. LIGGETT'S MOST POPULAR FORMULAS to clean your hair and leave it shiny and soft
CONTAINS ALL NATURAL INGREDIENTS AND NO HARSH DETERGENTS OR CHEMICALS, so you can use it with confidence, even with sensitive skin
ALL-VEGAN BARS ARE 100 PERCENT BIODEGRADABLE AND GOOD FOR THE EARTH, so using them does no harm to the environment
REFRESHING SCENTS GIVE YOU VARIETY WITH EVERY USE, with options including virgin coconut and argan oil, tea tree and hemp oil, and jojoba and peppermint, so you can try them all to find your favorite
FORMULA NEVER WEIGHS DOWN THE HAIR AND RINSES CLEAN without leaving behind residue that can dull the look of the hair or make it feel heavy
And last but not least, here are soap bars for those of you who like it hard.
Here are three different scents and formulas that you will love, and that will clean your scalp and hair and leave them soft and shiny.
These bars are made of 100 % natural ingredients and they do not have chemicals or detergents in them what so ever, so you can trust them that they will treat your skin gently, even if it is overly sensitive.
They are also biodegradable so being eco-friendly is very easy if you decide on this type of shampoo.
You can choose between three amazing combinations of scents, which are coconut and argan oil, tea tree and hemp oil, and jojoba and peppermint, so we encourage you to try all three of these and find the one that suits you the most.
Test the varieties by purchasing all of them while you still can!
Conclusion
If we take in the account everything that we have said here, we can conclude that organic products are the new and only right path to having healthy and beautiful skin and hair.
No matter what your problem is, if you have it, we have something to suggest, and that will make the thing better for sure. Even if you do not have a problem, we are sure that your hair will love these amazing shampoos and it will be very thankful.
The choice is huge, but we hope that we managed to help you find the right one for you.
So do not wait, and step into the future of healthy and shiny hair, and find your next favorite best organic shampoo.
Reading more: